In this post-COVID era, travel is officially back in full swing. And Louisiana is one of the ideal destinations for families, celebrations, and impromptu trips. With the bustling city vibes of the French Quarter in downtown New Orleans, the peaceful calm of the swamps and rural surroundings, and everything in between, we've got something for every type of vacationer. 
That means people from all over the country are flocking to New Orleans for outdoor activities, unique sightseeing, and a little adventure to go with their Hurricane cocktails and po boys. 
If you're planning to visit New Orleans any time soon, a swamp tour should be at the top of your list. It's a picturesque way to see the Louisiana wildlife in its natural habitat, check out the unique world of the bayou, and even catch a cool breeze. 
We've pulled together some of the research for you, so you know exactly what type of tour to take, and what to expect once you get there. Here's everything you need to know before buying your tickets for a New Orleans swamp tour. 
Are swamp tours open in New Orleans?
Yes, swamp tours are going strong in the summer of 2021. 
This open-air adventure is actually one of the safest activities you can book during your trip to New Orleans. You'll be outside enjoying the fresh air, far away from the rowdy New Orleans crowds. Local Louisiana tour companies are also taking every precaution to ensure visitors are safe and confident taking their bayou tour. 
If you'd like to reserve a private boat for your group tour, give us a call and we'll set up a private, guided tour experience.
Are swamp tours safe? 
Yes, New Orleans swamp tours are perfectly safe for people of all ages. Every boat is equipped with life preservers and safety gear, and led by a bayou-raised, local tour guide who knows the ins and outs of the bayou. 
Louisiana boat captains know the local wildlife better than anyone. They're skilled at identifying alligators and wild boar from afar so they carefully approach the wildlife without alarming them, or you. Even when you encounter wild gators, you can rest assured that your tour guide is a pro at giving you the best view, without endangering anyone on the boat or disrupting the natural environment. So you can get that coveted alligator photo without ever worrying about your own safety. 
Airboat Adventures is also taking extra precautions to sanitize all surfaces on a regular basis. And since you'll be in the open air for the entire tour, this is truly one of the safest activities you can book in New Orleans. Check our COVID-19 notice here.
How much does a swamp tour cost?
Depending on the type of tour you take, tickets for a New Orleans swamp tour could cost anywhere from $30-$100. That's a wide range, because you'll need to consider what kind of boat you want to take a ride in, how reputable the tour company is, and whether you want to rent out a private boat for your own group. 
Airboat Adventures boasts some of the most knowledgeable captains in the area, and offer swamp tours starting at $55 per person. If you want to get even closer to the bayou wildlife, you can book a seat on a smaller airboat for $79 per person. For that ticket price, you'll enjoy the unique experience of viewing the bayou from a small airboat with 6-8 passengers (faster and peppier than the typical pontoon boat). 
Are New Orleans swamp tours worth it?
Yes, your swamp tour is more than worth the price of admission: keep in mind that this is a one-of-a-kind adventure that you'll only find in select parts of the country. It's also much different from the more common New Orleans experiences, like walking Bourbon Street and taking historic house tours. (Don't worry, there will be time for that after!). Need transportation? Don't worry, Airboat Adventures also offers roundtrip transportation from downtown New Orleans for an additional $20 per person.
While on tour, you'll sail past natural cypress trees that form the backdrop of breathtaking photos and life-long memories. And you can take advantage of your time with a local Louisiana native by asking your boat captain all your questions about Louisiana wildlife, history, and even culture.
After seeing real-life alligators, wild boar and other critters in their natural environment, a bayou tour is bound to be the highlight of your trip. Whether you're traveling with a group, your family, or solo, swamp tours are truly worth the ticket price and travel time. 
What should I wear on a swamp tour?
Make sure you wear comfortable clothes that can withstand a splash here and there. Closed-toe shoes are recommended, so you can easily board the boat (and pivot fast to catch every alligator shot!). If you have it handy, toss in a bottle of bug spray and sunscreen to be safe (even if it's overcast in the morning; the weather in Louisiana is notorious for changing by the hour). Also, don't forget your sunglasses!
And otherwise, keep your packing light. You'll need to stow away everything you bring under a seat on the boat so it doesn't slide around or get wet. 
If you're taking an airboat tour, remember that airboats pick up speed, so you may want to wear an extra layer in the fall and winter. 
What will I see on a New Orleans bayou tour?
You can expect to see alligators, a variety of bird life, and maybe even turtles and water snakes (from a safe distance!). An experienced guide will also point out the unique trees and plants that are native to the swamp environment. Depending on the tour, you may also see traditional Cajun fishing cabins where locals harvest crawfish and other seafood. 
You'll see different types of wildlife at certain times of day or year. If you have any questions about what you'll see on your swamp adventure, contact a local tour company. 
What's the difference between an alligator and a crocodile?
You can easily tell the difference between an alligator and a crocodile based on the shape of their snout: alligators have more rounded mouths, while crocodiles have longer, more narrow heads. 
But if you see any massive reptile floating through a Louisiana swamp, you can be sure it's an alligator. Only gators are native to Louisiana bayous; not crocodiles. Alligators continue to grow throughout their entire lifetime. They can live into their 50's, and have been known to reach up to 500 lbs!
How long is a swamp tour?
Most bayou tours last around 2 hours, which is just enough time to explore the swamp, relax, and take as many photos as you can. 
If you're staying in downtown New Orleans, it will likely be a 45 minute drive to get out to the bayou depending on traffic, so keep that in mind when you're planning your day. The tour itself is well worth the extra travel time, since you'll see a whole other aspect of Louisiana that you won't want to miss. 
What is an airboat?
An airboat is a flat-bottomed boat with a raised propeller. You can easily identify an airboat by the large, raised fan in the back that powers the boat forward. 
They're ideal for navigating shallow waters. Airboats have become increasingly popular for ecotours, since they can reach relatively high speeds, and are safe for the local environment. They originally gained popularity in Florida, but now you can enjoy the Louisiana bayou by airboat, too. 
Should I take a swamp tour on an airboat or pontoon boat?
Some swamp tour companies specialize in airboat rides, while others offer tours in pontoon boats. The main difference is that pontoon boats are quieter and can't go nearly as fast as airboats can. 
For Louisiana swamp tours, many travelers prefer airboats: they go faster, which means you may get to explore more of the swamp in a short period of time. You'll also enjoy a cool breeze as you speed through the bayou, which is especially refreshing during a New Orleans summer. Your airboat captain will always slow down and pause so you can get up close to the alligators, so you'll get the best of both worlds.
Which swamp tours have the best reviews in New Orleans?
Airboat Adventures is one of the most highly ranked tour companies in New Orleans. They've earned 4.5 out of 5 stars on TripAdvisor, as well as a rating of 4.7 out of 5 on Google.
What are the best swamp tours in New Orleans?
Airboat Adventures offers some of the all-around best swamp tours in the area. They're well-established, with a team of experienced boat captains who know exactly where to go to introduce you to alligators, wild boar, and more. You'll learn all about the bayou, and the wide range of plants and animals that call Louisiana home. 
If you're looking for a more laid-back tour of the swamp, another well-regarded tour provider is Adventures of Jean Lafitte, offering pontoon boat tours.
Swamp tours are one of the most popular New Orleans activities, so you have options when it comes to choosing a tour company. Regardless of who you choose, you'll want to reserve a spot with a tour company that's earned plenty of positive reviews and recent customer testimonials.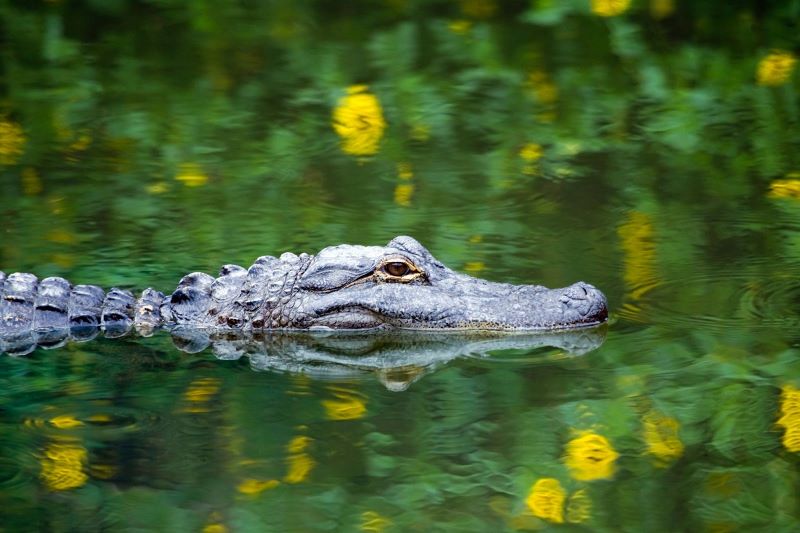 Get ready for an amazing tour experience.
No matter what time of year you take your tour, what you wear, or what kind of boat you choose, a swamp tour will offer you a truly unique, Louisiana experience. Visitors and locals alike learn and see something new on every bayou tour. And a relaxing, guided exploration of the Louisiana swampland is a perfect contrast to the busy world of the French Quarter. 
If you have any more questions about what to expect on your swamp tour, check out our FAQs page or give us a call. And laissez les bons temps rouler!