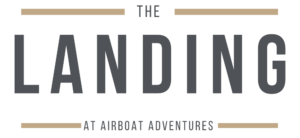 The Landing at Airboat Adventures is a unique, over-the-water, private event venue located in Lafitte, Louisiana, just minutes from downtown New Orleans and the French Quarter. We are available for private parties, birthday parties, weddings, and corporate events. We can accommodate groups of any size at our facility with amazing views overlooking Bayou Barataria.
We offer a full-size customizable bar including daiquiri machines, beer coolers, an ice maker, and even TV's. We partner with several outside catering companies that can provide a nearly endless variety of local options including everything from prepackaged sandwiches, local food trucks, Cochon de Lait, or a seafood boil. As for sound entertainment, our facility utilizes an in-house sound system where music can be streamed wirelessly or connected to wired equipment if the group is interested in a DJ or live music. The space is also equipped with a wireless P.A system. In addition to these great amenities, we also partner with an onsite photography company and can arrange to shoot and print group and party photos on site.
The Landing at Airboat Adventures has a large parking lot that can accommodate buses and large motor coaches. We can also provide private transportation for your convenience.
Your event rental can also be combined with a private swamp tour experience. We offer both airboats and the traditional covered pontoon style boats. We can accommodate up to roughly 250 people with our fleet of airboats of various sizes (6-30 passengers per boat), and about 144 passengers on our pontoon boats split among two 72 passenger boats at one time. We do offer special group rates depending on the number of people and the day of the week.
Our facility rental fee depends on the time of year, time of day, and length of rental. Please fill out our form below or email us at info@airboatadventures.com with any questions and to discuss options.