The best way to learn about the Louisiana swamp is to experience it for yourself!
The best way to experience the swamp is on an airboat that glides over the bayou and gets you up close and personal with Louisiana wildlife. A Louisiana swamp tour will help you to get that up-close perspective.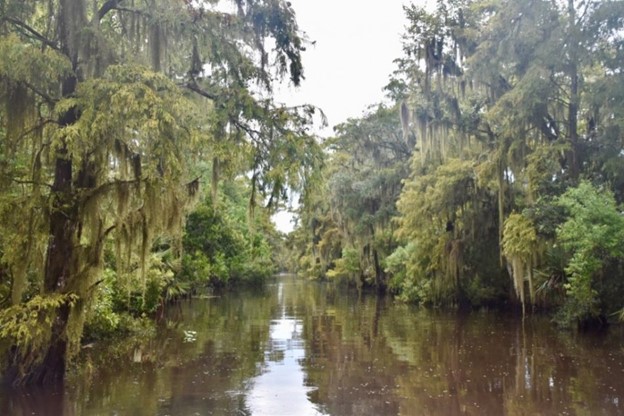 Here are 10 things you didn't know about Louisiana swamps to hold you over until then.
Louisiana is home to three million acres of wetlands.
Fishermen catch more shrimp in Louisiana than any other U.S. state.
Alligators have existed for nearly 200 million years, and over two million wild alligators live in bayous across Louisiana.
Louisiana's cypress trees were used to construct Higgins boats in WWII.
Louisiana land is washing away, due to erosion caused by the building of levees, drilling for oil and dredging canals, at the rate of a football field every hour.
Louisiana's wetlands took 7,000 years to form through a process called accretion in which the Mississippi River Basin flooded, depositing sediment and building land
Louisiana has the longest coastline of any U.S. state because of bays and sounds.
A swamp is an area that holds water and supports woody vegetation, while a marsh is an area that holds water but supports only non-woody, soft, green vegetation.
The nutria was imported from South America in the 1930's for fur farming.
Swamps exist across every continent except Antarctica.
Swamps are a worldwide phenomenon and you can see incredible swamp-lands in a number of states in the U.S. However, Louisiana swamps are worth seeing. They offer a unique environment that can't be seen anywhere else.
Why Are Louisiana Swamps So Popular?
If you haven't noticed, television has placed Louisiana swamps into the limelight in recent years, and for good reason. The swamps are an important part of Louisiana's culture, and this vital ecosystem is teeming with a variety of wildlife such as alligators, turtles, pelicans, hawks, and many other species. There is no better way to experience the swamp than with Airboat Adventures!
Enjoy a Day in Untouched Nature
Straight from the water, moss-laden cypress trees emerge like sentinels of the swamp to tower over circling reptilian beasts. In their branches, eagles and hawks peer out across the waters at the sinking of an orange sun. Cicadas' loud calls echo incessantly and frogs answer with deep, guttural croaks. Turtles curiously poke their heads out above the surface of the marsh as snakes slither by leaving them in their wake. Through a tangle of lily pads, among swaths of duckweed, a Wood Duck's red eye can be discerned alertly peering about. This is the life of the swamp, and it's waiting for you to discover it. There is no better way to do that than through a tour with Airboat Adventures!
Tour Louisiana Swamps Close to New Orleans
If you're visiting New Orleans and looking to get away from the city for a day, taking a tour of the marsh with Airboat Adventures is a no-brainer. Just thirty minutes from the French Quarter, we will give you thorough exposure to the defining landscape of Louisiana. What's more, if you're staying in a hotel in downtown New Orleans we offer easy pick-up and drop-off from your location. Once you arrive, our captains will guide you through 20,000 acres of tidewater cypress swamp where you will have the opportunity to see the diverse vegetation and animals it has to offer. Our specialty airboats can fit any party size and will provide close encounters with alligators and other wildlife that are unique to Louisiana. Our U.S. Coast Guard-certified captains have a great understanding and love for the marsh and are dedicated to instilling a similar love and understanding in their passengers. Come join us any day of the week for an airboat adventure!
Tour Louisiana Swamps With Airboat Adventures Today!
If you're a Louisiana resident simply wanting to get in touch with the nature in your home state or a visitor looking to immerse themselves in a staple of the Louisiana experience, don't miss your chance to tour the Louisiana swamps with Airboat Adventures. There are multiple tour packages to choose from, and you can call 1-888-467-9267 to reserve your own Airboat Adventures any day of the week!